A Sneak Peek at the New 2013 PING Product Lineup Doug Rikkers, GolfTEC Director of Club Fitting & Merchandise Services, PGA Member
As the month of September rolls around, I always find myself looking forward to getting my hands on PING's new product lines. Having recently seen a preview of the new lines, I can confidently say that we're all in for a treat. New for 2013 is their first version of adjustable drivers and fairway woods, a completely new line of women's clubs and a phenomenal adjustable length putter.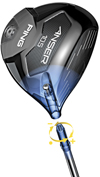 Adjustable drivers have been around for several years now, so there's nothing new about the concept. However, what PING did with the new Anser driver and fairway woods is no small task. By using a small aluminum hosel sleeve and titanium tightening screw, the Anser driver maintains the same look, diameter and mass as traditional fixed hosels without sacrificing the performance often lost with larger, bulkier designs. The Anser driver lets you adjust the loft up or down a ½-degree and comes in standard lofts of 8.5, 9.5, 10.5, & 12-degrees. The ½-degree may not sound like much, but with four standard loft options to choose from, you're able to create any loft between eight and 12.5-degrees. The four shaft options, ranging in weight from 46 to 69 grams, let you create the perfect fit based on your timing, swing speed and how you load the shaft. The same adjustable features are found in the Anser fairway woods, which are available in 3, 4, and 5-woods lofts.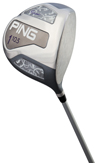 The new Serene Ladies line covers everything from the driver to the putter. One of the key benefits of the Serene driver is the available lofts of 10.5, 12, & 14-degrees. For those of you with slower swing speeds, the 14-degree driver will definitely help you get the ball up in the air for more distance. PING also offers two shaft options – lite & ultra-lite – with the ultra-lite being suited for particularly slow swing speeds. There are also three fairway wood lofts to choose from, and you can get hybrids up to the 6-hybrid. In addition, there are four putter model options that all incorporate PING's Variable Depth Groove technology, which research has shown to improve ball speed consistency by 40% across the face. For players who struggle with distance control this can be a huge improvement!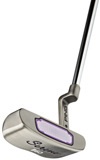 Finally, PING is first to the game with adjustable length putters in both Long and Belly version of the Nome model. The simple-to-use adjustment screw lets you easily tinker with the length until you find the one that works best for you. You can adjust the Long (Nome 500) from 44.5 to 54.5-inches and the Belly (Nome 405) from 37.5 to 46.5-inches.
If you're interested in any of these products, check with your Certified Personal Coach and, as always, make sure you get fitted for any new club purchase.